This is a short, non-fiction book written by a former keeper about the various characters and goings on at Grandfather Mountain. The animals include deers, bears, otters and eagles, each of whom have their own personalities.
This is a book that will particularly appeal to animal lovers and younger readers. I'm a wildlife fan and found myself learning some new things reading this book. I particularly loved the descriptions of the otters playing in the snow. The individual stories are quite brief which makes it easy to pick up and put down, and there are some photos to illustrate. Most of the pictures have transferred quite well to the kindle, although it would be lovely to see them in colour too. The behind the scenes peek at the work of the staff caring for the animals was fun to behold, and I'm kind of envious of the jobs they have (at times)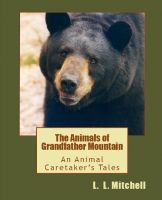 I found the description of the animal cast and how they came to be at Grandfather Mountain and got their names interesting, but as someone who had never heard of the place before would have liked more of an explanation about Grandfather Mountain somewhere in the Foreword or Preface. Being slightly picky I thought that it would have been preferable to put the information about the staff at the end as I was starting to get impatient to get to the actual stories.
I found this a quick, enjoyable read that made me smile. If you like this sort of thing it's a bargain at 99c/86p.
Format: Kindle, review copy
My Rating: 3*